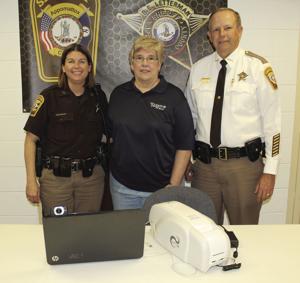 WoodmenLife Chapter 71 of Appomattox has partnered with the Appomattox County Sheriff's Department to provide a Smart 30D identification system. This system will be used to create identification cards for children, with information printed on them including the child's name, their parent(s) name(s), phone number, and address, as well as information such as the child's height, weight, eye color and hair color.
This service will be available to the public during various public events throughout the county. The Sheriff's Department will have a tent or table where parents can bring their children to their mobile setup and have an I.D. card made.
Woodmen of the World representative Becky Henderson was pleased to present such an important safety tool.
"Sergeant Nipper presented to us the need for this system," she explained. "One of Woodmen's goals is community outreach and providing services to our community."
The Smart 30D identification system is designed to work well with the Project Life Saver devices that the Sheriff's Department offers as well. These small devices that look similar in shape to a wristwatch contain transmitters which transmit a signal to the receiver at the Sheriff's Department. If a child, or elderly person dealing with dementia or Alzheimer's disease, for example, is wearing this device and becomes lost, the Sheriff's Department can use the receiver to help find them.
If a person is set up in the system with the Project Life Saver program, their Smart 30D I.D. card will provide their transmitter number, which would assist greatly in a search if they should get lost.
The identification cards, alone, can be helpful in the event that a child should become lost, because if the child has the I.D. card in their pocket, they can show it to a helpful adult, such as a police officer or another authority figure.
If the child does not carry the card, their parent can carry it and have it available to present to authorities in the case that the child should go missing. Because the card contains a photo and description of the child, the search process could begin faster and easier with this sort of documentation.
"This is something that Appomattox is fortunate to have gotten from Woodmen of the World," Sergeant K.C. Nipper stated.
Sheriff Barry Letterman agreed.
" We appreciate the Woodmen of the World's assistance in purchasing the equipment, and it will be used to help the community during public safety events," Letterman said.
Times Virginian
TrinityMount.Info