Over 600,000 people go missing each year:
Famous missing person cases such as the Elizabeth Smart or Jayme Closs disappearances are well-known missing persons cases, but countless other cases never make it to the spotlight.
National Missing Persons Day—February 3—gives the nation an opportunity to focus more on finding those missing persons, and some states are even expanding those efforts. Arizona holds a
Missing in Arizona Day
each year where forensic experts and law enforcement take information, notes, and records about missing individuals in hopes of finding some of those people.
Below, we explore which states have the most missing persons to help keep you informed about this epidemic.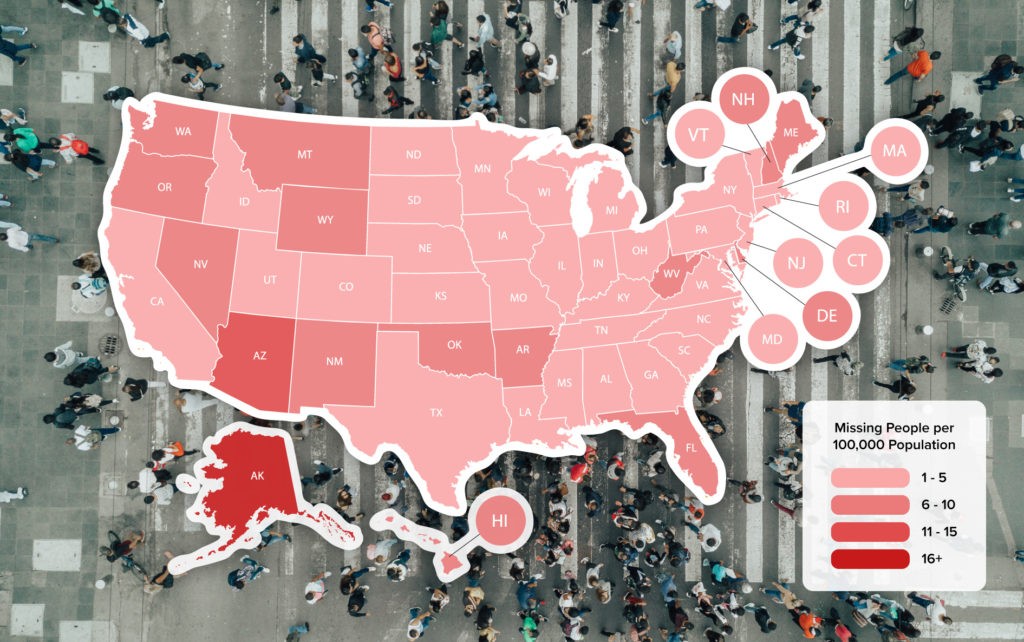 Methodology
Data Highlights
A
missing person
is defined as "anyone whose whereabouts is unknown whatever the circumstances of disappearance." They can be considered a lost person, someone who has voluntarily gone missing, or someone who is missing against their will. In our research, we uncovered some compelling data about missing persons:
Of the 15,207 people currently missing in the US, approximately 60% are male and 40% are female.

The average age of people when they go missing is around 34.

As of January 2019, there are 106 children currently missing who were younger than a year old when they went missing.

Alaska has the most missing persons per capita, with 41.8 people missing per 100,000 population. Massachusetts has the least missing persons per capita, with 1.8 people missing per 100,000 population.

However, California has the most missing persons in total, with 2,133 people missing. Rhode Island has the least, with 20 people missing.

The cities with the most missing people total include Los Angeles (189), Phoenix (170), Houston (165), San Francisco (163), and Detroit (150).

There are

12,459 unidentified persons

as of January 2019.